MeetingMiser will help you make it through your day! MeetingMiser is a fun and easy way of watching the cost of a
meeting
add-up. Simply enter the number of people, an average $/hour plus any preparation time, then press
Start
. Watch the dollars burn! Great for managers, consultants, lawyers, CPAs and you. Whether it's committee time, a visit with your attorney or even your psychotherapist, run MeetingMiser to calculate the real cost. MeetingMiser helps you reduce waste and get back to real work! Are you bored at work? Only
there
for the money? Be inspired! Enter your hourly wage to watch your wallet grow.
Boring! That's the complaint that tops the list when people talk about meetings. American businesses hold 11 million meetings a year and attendees agree that more than 50% of that time is wasted. Most regular meeting attendees admit to daydreaming (91%), missing meetings (96%), arriving late or leaving early (95%), bringing other work with them (73%) or dozing off (39%). Focusing and maintaining your audience's attention is the challenge of meeting planners the world over. It takes a little extra time and effort to plan a meeting that will hold your audience's attention from start to finish.
To head off complaints and ensure maximum productivity, consider these important issues in planning a meeting:
Timing is everything. Don't plan a meeting for Monday morning when people are trying to get their head in the game, schedule their week and answer their emails. Avoid right after lunch when people sink into nap mode. And forget about holding a meeting on Friday afternoon when everyone wants to get out the door for the weekend.
Invite the right people. Invite the people who will most benefit, those who can make real contributions and those with the power to make decisions. Send a meeting summary to other interested parties. Research indicates that 5 to 9 participants is the optimal number for productive discussion and decision-making. Break larger groups into small work groups after the initial introduction.
Set a specific goal. Meetings are more apt to stay on track when participants know exactly why the meeting has been scheduled and the specific goal to be accomplished. Decide why you're getting together. Is it to share information, brainstorm or make a decision? Send participants an agenda prior to the meeting so they arrive prepared.
Stay on track. People lose interest when a meeting veers off-track. Stick to your agenda and meeting timeline. Changing presentation media or tactics periodically will help meeting participants refocus on the agenda. Keep a running list of off-task ideas or questions in a "parking lot" so you can continue with the agenda without losing useful ideas that can be addressed later.
When people communicate, they gain 10% of the meaning from words, 20% from delivery style and 70% from non-verbal cues and body language. The presenter and presentation are more important than the actual words in getting your message across. And in our harried, multi-tasking world, attention span isn't what it used to be. These factors are particularly significant given the growing number of businesses who are using teleconferencing and videoconferencing to mitigate increasing travel costs and narrowing employee time constraints. Meeting planners can take a tip from television which uses the formula: tighten, dazzle and flow to rivet audience attention.
? Tighten. Tighten the focus of the meeting by setting just one or two goals. Tighten your delivery with preparation and practice. Tighten control of the meeting environment by optimizing room temperature, ventilation and lighting. In a recent poll, poor speaking skills (monotone voice, repetition, over-gesturing and buzzword overuse), lack of direction and physical discomfort were most cited as causes for loss of concentration during meetings.
? Dazzle. Be enthusiastic and share your passion or belief in the task or goal. Enthusiasm is contagious and engages the attention of participants. Use the tactics listed below to keep the meeting fresh and interesting. Wake people up by doing the unexpected: Meet in a restaurant instead of the conference room, play a game, switch visual media, solicit audience participation, etc.
? Flow. Maintain continuity by sticking to your agenda and time frame.
To keep meeting participants energized and engaged, try these 10 tips for holding your audience's attention during a meeting:
1. Use humor. Tell a joke, funny story or personal experience related to the meeting topic. Or open your presentation with an amusing slide, famous quote or cartoon. Dilbert is great for poking fun at meetings and corporate life.
2. Offer refreshments. Cool, refreshing beverages – ice water, juice, soda, iced tea – and easy-to-eat salty or savory snacks can help participants stay alert.
3. Busy hands. Place small jigsaw puzzles, mini Lego kits or tiny cans of Playdough in front of each participant. Some people think and concentrate better when they have something to do with their hands. Invite those who care to "to play" while they work.
4. Pose a question. Ask a question early in the meeting, but tell participants you don't want an answer until the end. To encourage active listening, offer a small prize (quarters for the vending machine or a Starbucks coupon) for the first correct answer.
5. Engage participants. Encourage and solicit the views and discussion of all participants. Use eye contact to draw people in. Toss a Nerf ball around the room. The person who catches the ball must offer a comment or suggestion before tossing it to another participant. Have participants show agreement or disagreement by holding thumbs-up or thumbs-down.
6. Get personal. Credit meeting participant's when facts, statistics and ideas are presented. Encourage participants to share ownership of the meeting by offering details of their involvement or accomplishments.
7. Show and tell. Use visuals to get your point across. Wake things up with a hands-on demonstration or PowerPoint graphics. Use a variety of visual tactics to keep things fresh.
8. Unlock the mystery. Abstract concepts and statistics can cause people's eyes to glaze over. Provide an understandable comparison or explain the real world implication. When possible, relate the numbers to the participants' personal lives.
9. Shake things up. Pop a Q&A or brainstorming session into the middle of a discussion. Do some role-playing to revitalize attention. Solicit alternative perspectives and stimulate creative thinking by passing out sheets of paper on which each participant writes a problem or concern. Papers are passed to the right where the recipient has 60 seconds to write down his first thought about the problem. Continue to pass the papers every 60 seconds until each person gets his own sheet back. Invite the group to share and discuss responses.
10. Snappy ending. Keep the end of the meeting from getting bogged down in repetitive comments and summary. Give each participant a blown-up balloon. If he feels someone is winding on too long, he can pop his balloon to "stop the hot air."

Related Reading:
Meeting for Results Tool Kit: Make Your Meetings Work
Direct Selling Business Sales Team Meeting
Direct selling marketing team training meetings are important; they must happen in order for the business to run smoothly and so everyone knows what to expect and how to work together. It is always important to get your team to meetings so that they connect and make friends and learn business success tips. There are many ways to motivate your team members to both come and work harder in the future. Below are some very useful motivational tips that will get you started down the right path to a successful team meeting.
Direct Selling Marketing Business Meeting Training Themes
Come up with a fun team training meeting theme. The theme should be relevant to the direct selling training, but fun enough to elicit plenty of questions. If your team members have questions, they'll come to the meetings to receive the answers. Plan ahead so you can tell them the theme of the next meeting at the end of each one. Theme meetings will make the meetings more fun. Examples of themes may be for holidays or seasonal changes. "Planting seeds for the future" is a theme that would go well in the spring. "Make no bones about it" could be a theme in the fall where you discuss why people make excuses. Be creative and make every meeting different.
Teach your direct selling business team members how to find business. There are many places where business can be secured and the sky is literally the limit when it comes to this aspect of business. Talk about this in your team meetings and go around the room asking for ideas. Having each team member share a different and creative booking tip makes the learning environment better due to the participation. Write down everything that is said and go through the list. Split them up among your team members so that everyone has an equal number. At the next team meeting, compare notes, finding out how many of them worked. It will be fun and interesting to find out how innovative your members became. Analyze those that were not successful to find out whether a different approach is needed or you need to discard them altogether.
Come up with incentives for getting people to the training meetings. Find fun ideas that interest them and incorporate them into your meetings. This could include fun games where team members will be required to take part in thought-provoking activities that will help everyone work together as a team. This is a very important part of team success and is widely used in many organizations both large and small.
Keep a positive attitude. This will be contagious and encouraging to all team members and will go a long way toward getting them to the meetings.

Direct Selling Marketing Business Consultant Recognition
Recognition is always important. Working in a direct selling business is exciting but can be lonely since you are working at home by yourself. Team recognition is important and should create comradarie. It is not just praising your team members. Make sure they all know what a great job they do but also go a step further and acknowledge the person not just the deed. Saying "great job" is not as good as "I am really impressed with the commitment you made to your business." Real recognition supports and recognized the person not the task. Doing this will make them want to come back to meetings, sell more and will help them to achieve higher goals.

Does it sometimes seem to you that half the business world is always "in a meeting"? And since at least 20% of the time we spend at meetings is wasted time, do you ever wonder who is actually running businesses these days?
Meetings are paradoxical. Simultaneously the biggest source of frustration in the working world, and also the best opportunity to get things done. The most common and at the same time the least understood business activity.
So what's the point of internal company meetings? There are several, but all stem from the benefits to be gained by getting people together. Some meetings are designed to ensure that everybody present shares the same information. Some are intended to get everyone to participate in making a decision. Some aim at both these objectives, plus coordination of the activities decided at the meeting.
Whatever the reason for having the meeting, there are 5 golden rules for making sure that the meeting achieves its aims.
1.Make sure that everybody invited to the meeting knows when and where it will be held, what is to be discussed, that they have all relevant information before the meeting, and that they know when it will end.
If the purpose of the meeting is simply to communicate information, now's the time to consider not having a meeting at all. We read much faster than we speak, so if the information can be released before the meeting, why meet at all?
And it's at this stage that the number of people at the meeting needs to be settled. My experience is that more than seven people cannot "decide" anything; they can only be informed of events, and perhaps exercise a veto.
2.Start on time. No delays, no waiting. Most meetings do not start promptly, which throws the schedule off course before a word is spoken. Over the course of a few meetings people develop the attitude that they do not need to be on time, "because someone's always late". And please note that "on time" means sitting in your place, papers set out in front of you, mobile phone switched off, before the scheduled start time.
I used to work for a German company, and that's how meetings would go. Everyone in place, chatting, until the chairman/boss/facilitator tapped his water glass and started the meeting. Maybe by coincidence, those were the most productive meetings I can recall.
3.Cover each item on the agenda in the depth it requires. Often it's helpful to make an estimate of how much time each item will take, and set the times out on the agenda. Otherwise make sure that the highest priority matters are covered early on in the meeting. That way, if the meeting runs short of time the important matters won't be skimped in the rush at the end of the session.
4.Make notes. Some meetings need formal records of who said what. This is a skilled and demanding task, and whoever does it will most likely not be able to be a full participant in the meeting. Other meetings require no more than a list of the actions agreed. Any participant can make this level of record, and in this case it's a good idea to rotate the job of record keeping around the group, so that everyone gets a chance to try it.
5.Do the actions! Don't wait until the day before the next meeting! Put the actions you were allocated onto your "to do" list, do them as soon as possible, and report completion to the rest of the group.
Good meetings are powerful tools. A group of people share common information, and work towards a common goal. Bad meetings are corrosive. They destroy cohesion, damage working relationships, and set up tensions within the group. But it's wrong to heap all the blame onto the person chairing the meeting if it does not go well. All the participants have a roll to play as well. They need to be prepared for the discussion topics, they must observe proper courtesy, only speak when appropriate, and when they speak they must be brief and to-the-point.
Generally the language used in meetings is more "formal" than what we use in everyday conversation. I have been in meetings where every participant was addressed not by name but by job title. And in other meetings the participants could only speak "through the chair", never directly to each other. Meetings where the business language is not your mother tongue can be difficult for you, although I have been the "outsider", and marvelled at the ease with which my Dutch or German colleagues did business in my mother tongue, not theirs! Occasionally I would have to leave one of these meetings, and discover on my return that my colleagues had not bothered to switch back to Dutch or German.
If preparation for a meeting to be held in a language other than your mother tongue is a problem for you, and you are lucky enough to live in Jakarta, the Aim team (English training Jakarta) is there to help you.
Related Reading:
Read This Before Our Next Meeting
On the way to work one morning, a man said to his friend, "I'm really looking forward to going to work today."
"Why?" asked his friend.
"Because I don't have a single meeting today, so I can really get some work done."
If you and your team members can relate to this feeling, it's probably a good time to take a hard look at why, how and how often you have meetings.
Here are some tips to make your meetings more productive.
1. Understand the goal of the meeting. There are several good reasons to have a meeting. Possibilities may include sharing important information, coordinating activities among a group or tapping into skill sets to solve a problem. If you can't clearly state a goal for your meeting, you don't need to have it.
For example, "We just like to get everyone together from time to time" is not a clear goal. "We want to share the results of the first quarter and communicate our goals for second quarter" is a clear goal.
2. Decide who really needs to attend. Again, there are several good reasons to invite participants. Such reasons may be the attendees have or need the information that will be shared, will be involved in the activities being planned or have the special skills or expertise needed.
Groups of more than 10 people are difficult to manage, particularly if discussion is needed. If you do have to include more than 10 people, manage your agenda carefully and keep the group on task.
Make sure one or two people in the room don't dominate the discussion. If you've asked someone to be at the meeting, make sure that person has opportunities to share.

3. Prepare a timed agenda. Decide what needs to be covered in relation to the goal you set in Step 1.
Break the topics into reasonable bites and allocate a certain amount of time to discuss each one. Be realistic. Take into consideration the size of the group, the complexity of the topic and the likelihood of a variety of opinions on the topic. The idea is not to keep people from having time to share. The object is to stay focused on the purpose of the meeting and to give more time to the more important elements of the discussion.
Learn more tips on creating efficient meetings.
Related Reading:
Meeting for Results Tool Kit: Make Your Meetings Work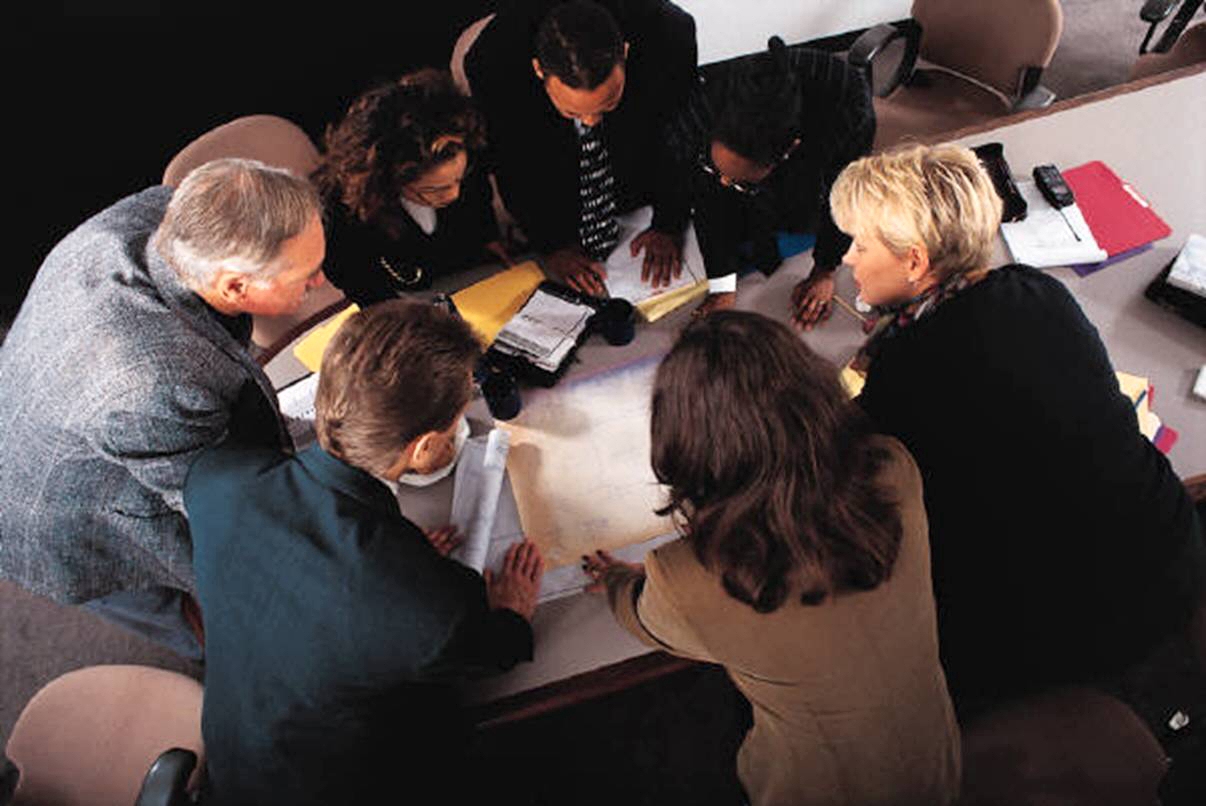 It's been 28 years since Michael Doyle and David Straus wrote their groundbreaking book, How To Make Meetings Work (1976). Are you like many of my clients who gripe about numbing, deadening meetings? As one publication put it, "days, weeks, months, years of our lives are slipping away in stuffy, overcrowded conference rooms". Little appears to be accomplished and no one seems to be able to do anything about it.
Doyle and Straus claimed that there were 11 million meetings in the US every day in 1976. Doyle says that there are 25 million today and most of them don't work. If you calculate how much productive time plus lost wages accrue to those sitting in the room, a truly staggering figure emerges.
Fortunately there are answers for this dilemma. Let me offer you ten tips for turning around your unproductive meetings.

1. Is the meeting necessary?

Let's start with a fundamental-and radical- question: Is your meeting necessary? A meeting largely serves two important business purposes: sharing information or making a decision. Can some other method of information sharing/decision making be used? Meetings are often held because "it's time for our meeting" with very little thought spent in what will actually happen. So rethink if you even need to hold it.
2. Send an Agenda in Advance
If you do decide to hold the meeting, send an agenda at least three days in advance. The agenda should be clear about what the meeting results should be, how people should prepare and what roles they will play. Show how the meeting connects with other meetings that may have contributed to the issues that will beaddressed. Ask for feedback. The three days allow for modifications if needed.
And don't forget to connect the meeting with the larger mission and vision of the organization. This creates and reinforces the much-needed larger context for the meeting.
3. Start and End on Time
Not doing this just (starting on time) reinforces the latecomers and punishes those who arrive on time. There are few things more maddening then waiting for stragglers and then listening to the half-hearted apologies-or no apologies at all.
Ending on time indicates that you value people's work that must be done after the meeting. Unfinished items can be carried over as part of the planning for the next meeting.
4. Create Ground Rules and Follow Them
These should include:
Whether "checking in" time should be before or part of the meeting
Reinforcing starting and ending on time
Creating a climate of trust where people can speak freely and no one gets hurt
Setting boundaries around the decision making process. When do you just want information from the group and when do you want a group decision.
5. Appoint a Recorder, Timekeeper and Facilitator
This was Doyle and Straus' unique contribution to meeting effectiveness. These three roles keep the meeting moving and on track.
Appoint people to play these roles at each meeting. The roles can be rotated during the meeting if there is an important issue that the role players want to participate in.
Have the recorder chart (on a flip chart) the "meeting notes" as the meeting progresses. This "public" recording of the meeting eliminates the need for minutes and allows everyone to stay involved by having his or her contributions noted. This method also allows for making corrections on the spot. The notes should be transcribed and made available to all after the meeting.
The timekeeper notes time allotted for agenda items and makes sure the time is adhered to.
The facilitator keeps the meeting on track and makes sure the ground rules are followed, participation is wide spread, people are listened to and issues are aired and brought to a conclusion.
6. Plan the Meeting

Review the agenda and the meeting's purpose. Get agreement on the outcomes to be accomplished by the end of the meeting. Make sure you have genuine buy-in.
7. Appoint a Devil's Advocate
For each issue discussed, appoint and rotate the role of "devil's advocate". Many people will not speak out at meetings for fear of retribution, low group trust or just the fear of looking stupid. As a result "group think" becomes the norm and poor decisions result. By appointing a devil's advocate, you give official permission for raising differing views.
8. Designate Follow-Up

After an issue is agreed upon, designate:
Who is responsible
What they will do
By when
This is the key issue of accountability. It makes the meeting worthwhile because it results in real organizational change.
9. Do a Meeting Review
On a flip chart sheet, draw a line down the middle. On the top of the left column place a simple plus (+). On the other column, place a delta (∆) (for needs improvement). List group responses to the following:
Were the outcomes achieved?
What worked and what didn't?
How can the meeting be improved?
Use this information to plan the next meeting.
10. Monitor What Happens After the Meeting
Note the water cooler/coffee machine conversations after the meeting. That's where the real meeting analysis often comes out. Comments made away from a meeting — negative or positive — do not contribute to the meeting's productivity. If you hear such comments, figure out a way to bring that information to the next meeting. It may require a revision of the ground rules so people feel safe to discuss the real issues.
Meetings don't have to be the horrible experience that they often are. By following these tips, your meetings and your organizational results will improve.
Related Reading:
Read This Before Our Next Meeting